As memories of the dark days of recession in the UK fade, working abroad may no longer be a necessity, but is often still an attractive option.Jim Dunton looks at Hays' International Salary Survey 2014 for regions that are on the up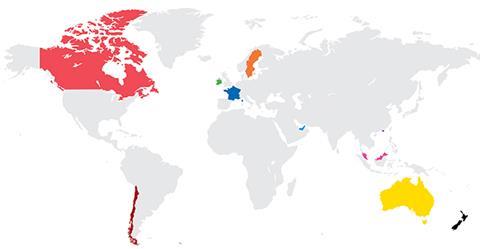 Optimism about the UK's long-awaited economic recovery has grown over the past year and while there will be many in the construction sector keen to see further improvements before hanging out the bunting, skills shortages are already being reported in some areas.
What does this mean for attracting staff to work abroad? Certainly senior industry figures aren't predicting a return en masse of all those who left this country out of financial necessity during the downturn, but the evidence suggests firms are having to work harder to lure staff abroad.
Hays' International Salary Survey 2014 shows evidence of strong demand for UK construction skills around the world, particularly in the UAE and Canada, but also a drop-off in China, France and Spain - none of which feature in this year's survey on the grounds that too few staff were placed to provide credible data.
In Singapore and Hong Kong, demand for UK professionals is projected to rise in the coming year, demand reflected in rising wages. However, Hays notes that both territories are becoming more prescriptive about the specialist expertise they require from expats and are also exhibiting a preference for local staff for other roles. Its data indicates that top-end salary expectations for UK structural engineers in Hong Kong have risen by 50% since last year's survey, while those for civil engineers are not far behind.
Despite positive economic news and the fact that Australia still has the highest nominal pay rate for experienced construction project managers, the upper salary range for the role has dropped from £130,000 in 2013 to £120,000, in 2014 a situation Hays blames on exchange rate fluctuations. It says regional variations make it impossible to give a typical salary valid for the whole country.
Hays Construction managing director Andrew Bredin says a "rapidly changing landscape" of local skill shortages will continue to be a factor impacting pay rates and should prompt those seeking work abroad to "do their homework". He cited tunnelling skills for Singapore and civil engineers with seismic experience for New Zealand as examples of premium-ensuring CV fodder.
If the outlook for China is more uncertain than it has been for many years, there is no disagreement that momentum is returning to the Middle East. The upper end of the salary range for experienced QSs in the UAE has gone up by 38% since 2013 and a "typical" salary for a QS in the UAE is now £83,500 - almost double the UK figure of £46,500. Mark Prior, EMEA managing director for programme, cost and consultancy at Aecom, says an expected upturn in Dubai was likely to draw talent away from Saudi Arabia and Qatar, prompting intensified expat recruitment by the last two.
This continuing overseas demand means that many professionals can still expect to receive significant boosts to their salaries and conditions by making the move abroad, except in the case of architects moving to Chile or senior structural engineers relocating to Ireland - rare examples in the survey of international work that pays less than in the UK.
Alan Muse, director of built environment professional groups at the RICS, says that this salary boost, in addition to the fact that a lack of domestic opportunities during the recession has been only one factor driving construction talent abroad, means an influx of returnees is unlikely.
"For many people, the best way to get experience on world-class projects is to move abroad and decisions will be driven by their ambition rather than the state of the home economy," he says.
Prior says that so far there is no clear flow of expat workers returning because of the UK recovery, despite the reduced capacity from the downturn leading to a shortage of senior surveyors and senior project managers in the domestic market. "There will be a balance between those coming back and new people going overseas," he says.
Rachel Ashley, group head of resources at EC Harris, also says that while the UK has "an awful lot of opportunities", the consultancy is seeing a trickle rather than a flood of staff coming back to the UK.
"I wouldn't say a huge number of people are returning," she says. "In the past, because things here were on lockdown, it was a case of, if you wanted to move upwards you had to go, but that is not the driving factor now.
"Now, people feel that if they are going to go abroad, it needs to be for the right reasons, and sometimes that can also be a lifestyle choice."
Benefits
Who offers what?
Contributions to the costs of relocation and accommodation were made by employers in Hong Kong, Singapore and Canada, according to Hays. Firms in those nations typically also contributed towards benefits such as childcare, schooling and healthcare. Flights home to the UK are offered as a benefit to employees in Hong Kong, although Hays noted that firms in the former British colony were becoming less likely to offer wholesale relocation packages, except to senior staff.
In Singapore, employers generally offer relocation packages and some will offer an all-inclusive salary, particularly for roles such as tunnel managers.
Australia
Jobs most in demand:
UK construction professionals are well placed to take advantage of a reviving commercial building market, particularly evident in New South Wales, Queensland and Victoria. Hays says there is demand for candidates with experience in large -scale commercial construction, high-rise projects and residential development. New South Wales will need professionals with experience on road, rail and tunnel work for projects such as the North West Rail Link, West Connex and North Connex.
Canada
Jobs most in demand:
Estimators
Project managers
Superintendents
Demand for UK professionals has increased over the past 12 months and is projected to continue growing because of a number of heavy industrial projects in the north, mostly for oil and gas sites. Downtown high-rise office and condominium developments offer further opportunities in major urban centres. QSs with five to 10 years' experience are particularly sought after, which is reflected in increased wages in this category.
Chile
Jobs most in demand:
Chile is a new addition to the International Salary Survey for 2014 and an area where demand for UK professionals is predicted to grow over the next 12 months. Hays says European professionals are beginning to realise how good the country's economy is, considering the range of opportunities on offer in engineering and construction, particularly in Santiago and Antofagasta due to the mining industry. Fluency in Spanish is considered an important criterion by employers, but engineering design is one of the roles least affected by the language barrier.
Ireland
Jobs most in demand:
There have been continued improvements in the Irish economy over the past year and projects are beginning to pick up. However, an abundance of locally qualified and experienced candidates means there are limited opportunities for UK workers. Intel's €5bn investment in upgrading a large facility in Kildare has seen an increase in demand for professionals with semi-conductor and pharmaceutical building services knowledge.
Hong Kong
Jobs most in demand:
Civil engineers with rail, bridge and tunnel experience
Demand for UK construction professionals has remained steady over the past 12 months but is predicted to increase, with a shortage of mid- to senior-level engineers. Recruitment pressure has been created by delays to the Hong Kong-Macau-Zhuhai bridge project, but demand for expat architects, building surveyors and project managers has decreased, with local experience prioritised. Salaries have increased for expats with more than 10 years' experience in specialist areas, such as rail, aviation, and casino work.
New Zealand
Jobs most in demand:
Civil engineers
Structural engineers

Demand for UK construction professionals remained constant over the past 12 months, but is projected to rise over the next year. Driving factors include continued rebuilding work following the 2011 Christchurch earthquake and increased property development. The economy is performing well and labour market supply issues are expected to increase demand for expat construction workers and architects. Engineers with seismic experience are particularly in demand.
Singapore
Jobs most in demand:
Project managers
Tunnel managers
UK professionals with expertise in tunnelling projects and stations are in demand in Singapore because of a range of major civil infrastructure projects under way. Singapore has seen growth in its staff requirements over the past 12 months and this is expected to continue. However, it has also recently been named the world's most expensive city. Tunnel managers with boring machine, earth pressure balance and slurry experience are sought after.
Sweden
Jobs most in demand:
Demand for UK construction professionals has picked up, and is expected to continue at similar levels for the next year. The role of a quantity surveyor does not traditionally exist in Sweden, so, where these skills are needed Swedish firms will recruit from abroad. Local language skills are essential.
UAE
Jobs most in demand:
Projects in the UAE were increasingly looking for UK construction professionals in the past 12 months - a trend that is expected to continue. Chartered QSs are in demand as candidates already based in the region are considered too expensive. Hays' UAE office also covers Qatar, where there is strong demand for experienced civil engineers for major infrastructure projects linked to the 2022 World Cup and Qatar Vision 2030. Obtaining a visa is straightforward for expats with the relevant professional qualification and like-for-like project experience.
Methodology
The Hays International Salary Guide 2014 is based on salaries of candidates placed by the company in the past 12 months. It is compiled by staff worldwide who understand the local markets and are specialists in the built environment. The salaries are typical annual salaries for permanent positions and are guide figures only because of possible discrepancies in terminology, purchasing power and local variations. They also do not take into account local government tax regimes, hours of work and currency of payment. The salary figures have been converted into sterling based on conversion rates in May 2014 and have been rounded to the nearest £1000.
China, France and Spain were removed from the guide this year as UK expats were not placed in sufficient numbers to provide comprehensive data. Chile and Sweden have been added to the guide for the first time. The role of Building surveyor was also omitted due to insufficient data.