Joint venture partners Sterling Property Ventures and Long Harbour have revealed plans for a £100m PRS scheme in Birmingham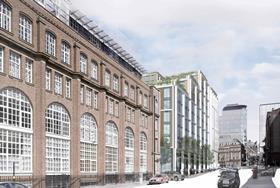 Plans have been revealed for a £100m mixed-use development, Great Charles Place, in Birmingham.
Developer Sterling Property Ventures and funding partner Long Harbour plan to turn the two acre site at Great Charles Street from a car park into the city's first private rented sector (PRS) scheme.
The first phase includes 320 apartments, 20,000 sq ft of ground floor retail and leisure space, and a mix of units, totaling 8,000 sq ft, to cater for small businesses.
The joint venture partners expect to put in for planning in October with work expected to commence January 2016. Sterling Property Ventures will also seek outline planning permission for the second phase of the scheme in October - a 205,000 sq ft office development over 14 floors.
The project team includes architects AHR; planning consultants Turley; project manager Gleeds; mechanical and engineering consultants, WPP; structural engineers Davies Maguire & Whitby and building control consultants, BCA.
James Howarth, managing director of Sterling Property Ventures, said: "Great Charles Place will be a fantastic addition to the Jewellery Quarter [in Birmingham]. Not only will it realise the potential of this strategic development site, it will help deliver some of the housing and office space so desperately needed by Birmingham."
Rebecca Taylor, Long Harbour's investment and development manager, said: "Long Harbour is committed to working with development partners like Sterling to deliver PRS across the UK. Great Charles Place represents a cornerstone investment for our fund and into Birmingham, which we have identified as a core target area for build to rent investment."