New images show progress on accommodation, academy and polyclinic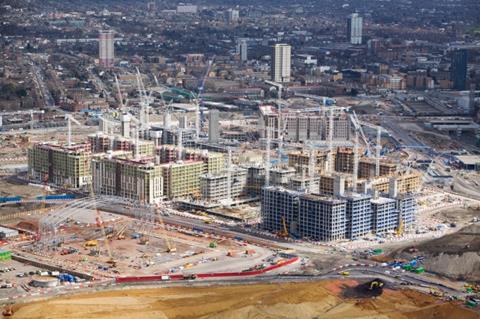 Images of the athletes' village for the 2012 London Olympics have been released.
The facilities, which have been under construction for two years, will be used by competitors at the Olympic and Paralympic Games. After the Games, owners and managers Triathlon Homes will use the accommodation to provide 2,818 homes, of which 1,379 will be affordable. New parks and open spaces will be added.
Construction work started on the village in June 2008 and three-quarters of the residential plots are now structurally complete. The village's four-storey education campus, Chobham Academy, is structurally complete up to the second. Earthworks are also underway on the site of the village's polyclinic.
David Higgins, chief executive of the Olympic Delivery Authority, said: "The project is firmly on track with the legacy of quality new homes for Londoners taking shape. Together with the new homes we are building, the progress being made on Chobham Academy and the polyclinic site also shows the education and healthcare legacy we are delivering at the heart of the village plans.'
Hugh Robertson, minister for sport and the Olympics, said: "With these images we are starting to see just what the athletes' village will look like in 2012. The top-quality accommodation that will be home to athletes will also become a cornerstone of the East London community long after the Games are over, providing iconic new housing for thousands of people."
The structures of all 11 residential plots in the village will be completed later in the summer, with the external cladding works well underway and the internal fit-out of the buildings starting. The athletes' village is due for completion in early 2012.