Retirement home builder says combination of factors has hit bottom line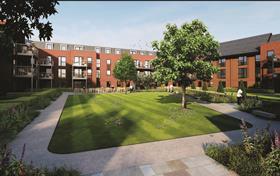 McCarthy & Stone confirmed it expects its full year operating profit to fall by up to 32% for the year to the end of August, as the retirement homes builder deals with what it called "continuing economic uncertainty and a slower secondary market".
Back in June the group warned its operating profit for 2018 could be a third lower than last year, following a decline in both reservations and property prices.
And in a trading update issued today the firm said its operating profit for the year was expected to be between £65m and £73m, versus last year's figure of £96m.
It said revenue for 2018 was expected to rise by nearly 1.5% to £670m, bolstered by a 10% increase in average selling price to around £300,000.
McCarthy & Stone, which will officially report its numbers for the year to the end of August 2018 on 13 November, said total legal completions fell 7% to 2,134 units.
It said volumes and operating profit had been constrained, "as expected", by the heavy weighting of first occupations in the second half, continuing economic uncertainty and a slower secondary market.
The group also said prices had softened in the second half, particularly in the south of the country.
Jon Tonkiss, who became McCarthy & Stone's interim chief executive following Clive Fenton's retirement last month, said it had been a tough year for the group with "ongoing adverse market conditions continuing to impact the business, and without the benefit of any additional government support for the retirement housing sector".
In April the group had urged the government not to slap leasehold reforms on the retirement homes sector, following an earlier pledge from the then-communities secretary Sajid Javid to crack down on "feudal practices" within the leasehold system in England, including a ban on leaseholds for almost all new build houses, following a series of scandals which saw ground rents charged to leaseholders rocket.
McCarthy & Stone began talks with the government over the issue and today said these discussions were ongoing.
"We believe that there is a strong case for a specific exemption for the retirement housebuilding sector and we are awaiting clarification on this matter.
"Until this is received, we continue our planning to try and mitigate the potential impact on the business," it added.