The £3bn Social Infrastructure Development framework has launched in Scotland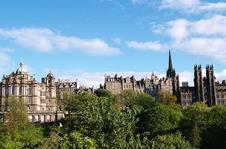 A new £3bn social infrastructure framework has been launched in Scotland.
The Social Infrastructure Development (SID) framework will be used to to deliver up to £3bn of public sector projects, such as schools, housing, police stations and care homes.
Run by NPS Group and Cornerstone Assets, it is designed to provide public bodies with an additional way to procure social infrastructure at no cost to the public purse.
Projects are funded through the development of surplus public sector land, which will be transferred to framework winners.
The framewrok is similar to the English SID framework which launched last March, and the five contractor members are the same - Bouygues UK, CCG, Morgan Sindall, Wates and Willmott Dixon.
Mike Britch, managing director of NPS Group said the framework is open to all public bodies and charities to build new assets or improve existing ones.
Cornerstone Assets chief executive Tim Byles said the framework would support Scottish councils and enable them to be "innovative and agile" in providing for the needs of local communities.
"Instead of having to rely on Government handouts - be that new homes, new care facilities, or new school places – cash—strapped councils will be able to take matters into their own hands, and commission the services they need," he added.