MIPIM latest: Birmingham Council looks for investors for its plans to redevleop Smithfield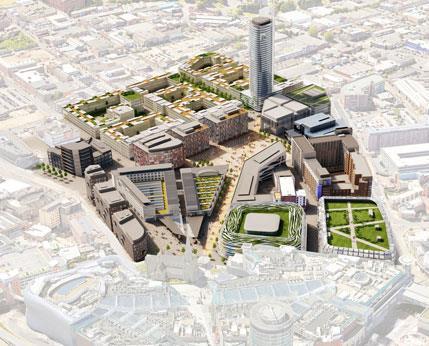 Birmingham City Council has revealed its £500m masterplan for Smithfield located in the city centre as it targets potential investors and developers at MIPIM.
The 10-year plan covers the redevelopment of 14 hectares of land and include 2,000 homes, 300,000 sq m of commercial floorspace, public spaces and a Midland Tram extension.
Andy Street, chair of the Greater Birmingham & Solihull LEP, commented: "Birmingham Smithfield is the next fantastic opportunity to secure investment for the city's exciting growth agenda. It will create new jobs, homes and infrastructure.
"The site's status as part of the City Centre Enterprise Zone will bring added impetus and over £40m of funding has already been committed to supporting the delivery of these plans," he added.
Mark Rogers, chief executive at Birmingham City Council, added: "The opportunity to create a brand new place at the heart of the city is unique. Birmingham Smithfield will have a transformational impact that capitalises on the area's unique heritage and focus for markets.
"It will radically enhance the city's retail, visitor and residential offer, as well as unlocking the growth potential of a much wider area. By showcasing the scheme at MIPIM, we are directly targeting potential investors and developers to secure international interest."
The masterplan document is out for public consultation for an eight week period between Monday 21st March 2016 and Monday 9thMay 2016.