Planning applications have been submitted for two new office buildings at Manchester's city centre development following fire earlier this week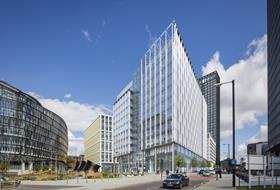 Planning applications have been submitted for two new office buildings at the £800m Noma development in Manchester.
The new buildings have been designed by AHR Architects and will collectively provide over 350,000 sq ft of office space over nine and eleven storeys.
The joint venture partners – The Co-operative Group and Hermes Investment Management - delivering Noma believe Manchester's office market is looking especially attractive in the light of soaring rents across London and unaffordable housing costs making it harder to recruit and retain staff.
David Pringle, director of Noma at The Co-operative Group, said "2 and 3 Angel Square will broaden our offer for those businesses who want a more traditional modern office than some of the quirkier reconfigurations we have planned."
Hermes Invesment Management asset manager Ben Tolhurst added: "We are seeing steady growth in Manchester's commercial appeal. Should these two developments achieve planning permission, it will be an important stage in transforming the city and creating a commercial destination for global businesses."
Mike Hawkins, director, national offices at Colliers International, appointed as agents on the scheme, said: "Manchester's appeal to the business innovators of tomorrow is only set to grow on account of improving transport links, affordably priced housing and a supply of highly skilled workers. By offering appealing and inspiring office space at prices which are a fraction of London's, we believe NOMA will be a compelling choice for smarter businesses."
The application will be considered later this year, with completion expected in late 2018, subject to approval.
The applications for 2 and 3 Angel Square follow a dramatic week for the city centre development, which saw the former grade II listed headquarters of the Co-operative Wholesale Society engulfed in flames.
The fire at the former Co-op Headquarters came as the building was in the process of being renovated by Wates for NOMA.
A spokesperson for NOMA and Wates Construction said earlier this week that they were working closely with the Greater Manchester Fire and Rescue Service and the on-site team to "gain access to the building as soon and as safely as possible."