North and Central London's first children's Hospice Noah's Ark moves closer to breaking ground with main contractor appointment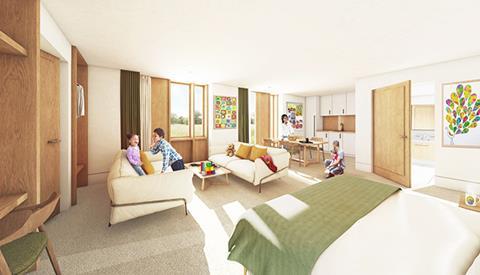 8build has been appointed as the main contractor on the construction of Noah's Ark Children's hospice in Barnet.
The first children's hospice for North and Central London will be built on a 7.5 acre nature reserve near Barnet town centre and provide space for relaxation and adventure enabling children and their families to connect with others facing similar challenges.
The wider team on the project includes architecture practises Gensler and Squire & Partners, consutlants JLL and RPS, developer Sellar , investment advisor Pears Property who are providing services either pro bono or at a discounted rate for the last 18 months
Chris Dyer, divisional director at 8build, said: "The opportunity to build Noah's Ark's new state of the art facility is something we feel truly aligned with and equipped for. It is our mission to involve a supply chain that is equally as enthusiastic as us to deliver this project and aid the children's hospice's hugely impactful work."
Flan McNamara, construction director at Sellar, said: "London is a city of iconic buildings showcasing in the 21st century what the UK construction industry does best. By working together to build the new Noah's Ark Children's Hospice, we can show London we care. We'll wear our hearts on our hard hats and leave London a legacy we can all be proud of."
Noah's Ark chief executive, Ru Watkins added: "Families face enormous emotional and practical challenges when they are told a child's life could be cut short by illness.
"Building the new hospice means we can offer end of life care for the first time, as well as our highly-valued Hospice at Home support service.
"We have been blown away by the response of the construction industry so far and we hope we can count on more firms coming forward to help us cut costs during the build and fit out stages.
"The children's hospice project is something we can all be proud of. It's all about creating a place where children can be children for as long as possible, and not just patients."
For those interested in getting involved in the project contact noahsarkhospice@8build.co.uk or fundraising@Noahsarkhospice.org.uk