Eric Parry's skyscraper will be shortened by just under 5m in revised proposal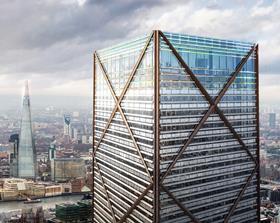 Revised plans for the city's tallest skyscraper 1 Undershaft have been submitted by Singaporean developer Aroland Holdings.
The revised proposal for the Eric Parry designed skyscraper will see it shortened by just under 5m to a height of 304.94m, down from 309.6m, meaning it will still dwarf other towers in the area.
The changes come in response to concerns from the aviation authorities about the impact of the tower on airspace and discussions with key stakeholders and local residents.
However, the tower will still rise 73 storeys above the Square Mile and house London's highest viewing gallery and education space, for which the developer is in ongoing talks with the Museum of London over.
The revised height has been achieved by reducing the height of each floor by 50mm and amending structural floor beam depths, reducing the height of the plant rooms, as well as a minor change to the double height viewing gallery.
A spokesperson for Aroland Holdings said: "Following extensive public consultation with local residents and key stakeholders, a slightly revised proposal for 1 Undershaft has been submitted.
"Aroland Holdings look forward to a planning decision from the City of London in due course".
Building understands that as yet there is no impact on the timescale for the development as Aviva who currently occupy a tower on the site still have to vacate.