Warning in Federation of Master Builders state of trade survey follows continued decline in workloads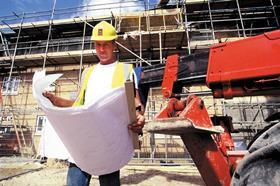 Around a third of builders will have to cut jobs if the decline in the construction continues, a survey by the Federation of Master Builders reveals.
The FMB's latest State of Trade Survey revealed widespread pessimism among small and medium sized firms.
It found that workloads decreased throughout the last year but the rate of decline did slow slightly in the fourth quarter with a net balance of 31% of firms reporting a decrease in workload compared with 35% in Q3.
However, a balance of 30% of firms still said they expected to cut staff in the first half of 2013.
Brian Berry, chief executive of the FMB, said the outlook for the industry remained "bleak" after a "tough year" for construction.
He added: "The government's support for infrastructure spending is good but it needs to look at ways it can boost the building industry, not least the urgent need to build more new homes by freeing up land, easing planning red tape and by pushing investment through its new business bank.
"A VAT cut on building work to make homes more energy-efficient would also help provide an immediate boost for small builders and have the multiple benefits of boosting the economy, helping householders save money on their fuel bills and reducing carbon emissions."