Private developer set to discuss affordable housing provision with local council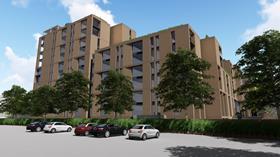 Investment firm and property developer Accrue Capital has submitted plans for a 433-home development in the Old Trafford area of Manchester.
Designed by Manchester architect O'Connell East the proposed Trafford Place scheme (pictured) will be built on the derelict site of an old B&Q retail outlet, close to Old Trafford cricket ground.
It will reach a maximum of 12 storeys and feature a mix of one-bed, two-bed and three-bed properties, as well as a new public realm.
There will be ground-floor units designed for a range of commercial or community uses, car and cycle parking beneath a podium level and there will be a car-share club.
Accrue said it would "discuss" affordable housing provision with the council as part of the planning process.
Stephen Webster, Accrue Capital's chairman, said: "We have been hugely encouraged that the majority of people who responded to our consultation support the idea of new homes on the site.
"The plans have been carefully put together to ensure that Trafford Place delivers the maximum benefit possible to the local area."