Melbourne fire chief says there was evidence of external fire spread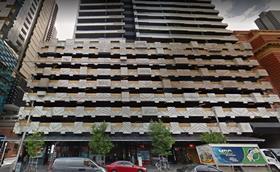 ACM cladding is being blamed for a fire at a Melbourne high-rise tower block.
According to the ABC the Metropolitan Fire Brigade chief officer Dan Stephens said firefighters believed the building (pictured) was clad with similar materials as Grenfell Tower.
Stephens said: "My understanding is that the building is cladded with aluminium composite materials (ACM) … so the sort of cladding that was on the Grenfell Tower.
"I can't speculate at this time, what I can say is that there's evidence of external fire spread.
"We do know that because the sprinklers were activated, that the fire has penetrated internally [as well]."
Just by Spencer street station .. I honestly hope whoever is in there gets out okay!! #melbourne #fire — you feel so helpless looking on but the fire engines are on their way. pic.twitter.com/jYGYqSc0Wb

— ʙᴇᴋᴀʜ ᴊᴀʏɴᴇ (@bekahjaynex) 3 February 2019
The fire started at 5.43am AEDT on Monday, with the fire breaking out on the side of the building on the 22nd floor, before moving up the outside of the building and spreading through to the 27th floor.
About 150 people were evacuated from the building, while a man in his 20s was treated for smoke inhalation at the scene by paramedics and taken to the Royal Melbourne Hospital in a stable condition.
The building, which is 43 storeys high, is located on Spencer Street in the heart of Melbourne's central business district.