Scunthorpe contractor posted £470,000 loss last year
Scunthorpe-based contractor Clugston Group is understood to be close to collapse, threatening hundreds of jobs.
Administrators are believed to be meeting some of the firm's 600 staff, 400 of whom work in the construction operation, at the contractor's office today.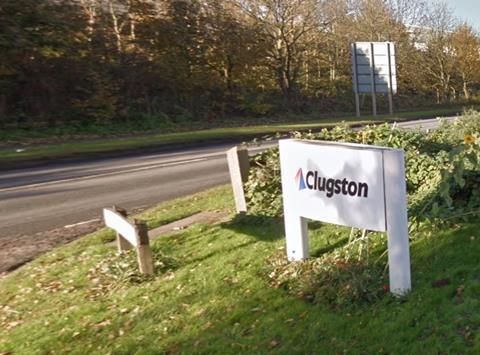 The firm dived into the red last year after what it said was one of the most challenging periods in its history, posting a £470,000 loss versus a £1m pre-tax profit in 2017. The group reported turnover in 2018 of £175.4m, with 90% of that coming from construction activities.
Staff have taken to social media to express their surprise, with one saying: "It's a very sad day."
Another said: "Absolutely devastated to hear the news about Clugston. Please if you know of any jobs … let me know. To everyone I work with, also affected just before Christmas, it's been an absolute pleasure to work with you. I'm just left feeling numb."
Clugston Construction's LinkedIn page had posted a picture at its head office saying "it was beginning to look a lot like Christmas" less than eight hours before employees were told the firm was closing.
Local media is reporting that staff have been told not to expect their last pay cheque.
The Civil Engineering Contractors Association (Ceca), which has 75 member firms in the north east, said it would offer support to try to place workers with new employers.
Ceca would "also use its wider regional networks to seek employment for those working for Clugston across the rest of the country", it added.
Clugston's construction arm had been working on a number of major schemes, including two energy from waste (EFW) projects secured in 2016. It was also working on an EFW job for Viridor in Avonmouth, its largest job, worth £90m.
The firm, founded in 1937, was overhauled last year after it recognised "the need for a more joined-up and cohesive approach for businesses within the group".
It made a series of senior management appointments including a new HR director, IT director, and heads of logistics and its facilities management operation.
In June this year Bob Vickers, the group's chief executive, left the business, followed by chairman John Clugston, who announced in November that he would retire in January.
John Clugston, who had been chairman for over 35 years, was due to hand over the reins to David Clugston on 1 February 2020. David Clugston had been a non-executive director of the firm for nearly five years and had already taken up the role of deputy chairman.