KPMG is handling the administration of four of the company's construction businesses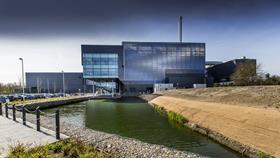 Around 200 employees have been told to stay home by the people running the administration of four Lagan Construction Group businesses.
John Hansen and Stuart Irwin of KPMG have been appointed joint administrators of Lagan Construction Group Holdings Limited, Lagan Construction Group Limited, Lagan Water Limited and Lagan Building Contractors Limited.
The pair said: "It is likely that this process will take a number of days and in the interim most of the 200-plus workforce have been asked not to attend for work whilst this assessment is ongoing.
The businesses are not trading "while they [the administrators] assess the position and options for the companies".
With employees left in limbo, KPMG said it was committed to progressing with the administration as quickly as possible.
The joint administrators said: "[We] realise that this period of uncertainty is very difficult for all employees and stakeholders of the companies and the joint administrators are endeavouring to complete their assessment as quickly as possible."
Lagan announced the administration of four of its 30 companies a fortnight ago after parts of the group were hit by a number of problems including delays starting new projects, lengthy contractual disputes on existing projects and uncertainty caused by a joint venture partner.
Lagan Construction Group, whose projects this side of the Irish Sea have include an energy from waste scheme (pictured) on the outskirts of Ipswich, is separate from Lagan Group, which is run by the construction group's chairman Michael Lagan's older brother Kevin, following a split in the business in 2010.
Last month, it was revealed that Lagan Group is currently in talks to sell off parts of this business to materials firm Breedon which is set to give an update on these when it unveils its full year results tomorrow (Wednesday).