Current Aecom European boss Steve Morriss will take reins of combined firm in the region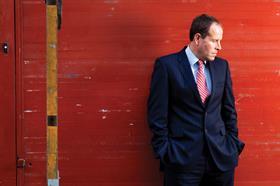 Aecom and URS have released details of how the firm's combined management structure will work and who will run the company's various divisions once Aecom completes its takeover of URS next month.
US-based construction group Aecom agreed a deal to buy US engineering firm URS for £2.3bn in July.
In an update to staff yesterday Aecom's president and chief executive Mike Burke announced the combined firm will have four operating divisions and a new global business development division that will target winning work from the firm's biggest clients.
The firm's design and consulting services group will encompass the firm's architecture, cost consultancy, design, economics, energy, engineering, environmental, planning and programme management businesses.
Current chief executive of Aecom's Europe, Middle East and Africa (EMEA) division Steve Morriss (pictured) will head up the design and consultancy division in the EMEA region.
Tom Bishop, currently executive chair of URS in Europe, the Middle East and India, will take the reigns of the design and consultancy division's Americas region, while Aecom's Asia-Pacific president Sean Chiao will head the division's Asia-Pacific region.
Morriss, Bisho and Chiao will all report to Aecom's current chief growth office and president of EMEA Fred Werner, who steps up to become president of the the global design and consulting services group.
The combined firm's construction services group will be split into two segments.
Dan McQuade, currently Aecom's chief executive for construction services, will become president of the building construction half of the division, while George Nash, currently president of URS' energy and construction division, will head-up the combined firm's energy, infrastructure and industrial construction division.
The combined firm's management services group will include URS' federal services divison and Aecom's global support services group and will be led by Randy Wotring, URS' current president of its federal services business.
Aecom's fledgeling capital investment group, which launched in 2013, will continue as the combined firm's fourth division and be led by its current chief executive John Livingston.
The firm will also create a new division called the end markets group which will be responsible for developing business from Aecom's biggest customers.
Burke said the end markets group will be "critical" to the firm's "relentless pursuit of long-term growth and technical excellence".
He added: "This group will serve as a powerful, strategic partner with our operations' leadership team as we pursue the largest and most iconic projects in the world."
This group will be headed by the current chief executive of Aecom's global support services division Mike Donnelly.
Burke said Aecom and URS should be operating as a combined firm by January 2015.
He said: "Our new operating structure reflects the strengths of both Aecom and URS. The leaders that we have identified are a combination of the extraordinary talent contained within both firms. Together, alongside of each one of you, we will begin a new era of transformational growth."