Aecom to head up a team to develop the masterplan for the Ebbsfleet garden city in north Kent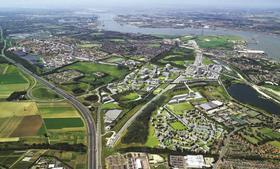 Aecom has been awarded the contract to deliver the framework masterplan for the Ebbsfleet garden city in north Kent by the Ebbsfleet Development Corporation.
The appointment, announced by communities secretary Greg Clark, will see Aecom head a team comprising three sub-consultants: architect Maccreanor Lavington, commercial property and real estate consultant Cushman & Wakefield, and Spacehub a design studio specialising in strategic landscape architecture, public realm and ecology.
The masterplan will provide Ebbsfleet Development Corporation with a strategy for the next stage of the 20-year 1,026 hectare Ebbsfleet's development, and follows the firm's successful masterplan for the 2012 Olympics.
Central to the development will be Ebbsfleet International Rail Station on the High-Speed 1 European rail line, with the government to contribute up to £200m of further infrastructure funding to kick start the development.
Aecom was appointed via the Homes and Communities Agency's Multi-disciplinary Framework Agreement 2014-2018 and work is to start immediately, with the final framework masterplan due to be completed in 2016.
Billed as the UK's first local-led garden city for nearly 100 years, Ebbsfleet will provide up to 15,000 new homes and will be developed in line with the government's objectives of creating high-quality housing and communities supported by local employment opportunities, infrastructure and recreational amenities.
Andrew Jones, practice leader of design, planning & economics in EMEAI at Aecom, said: "Ebbsfleet is the most significant strategic framework masterplan to be commissioned in the UK since the Olympic Park.
"As well as creating a new and distinctive community with excellent connections to London and Europe, the garden city will be a well-designed, self-sufficient settlement where people want to live, work and visit."