Consultant teams up with University of Salford to conduct environmental research after role on £450m project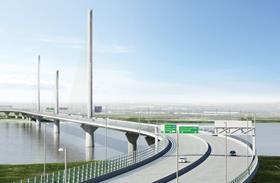 Aecom has announced a new research partnership with the University of Salford after its role as environmental consultant on the £450m Mersey Gateway project.
The firm is currently providing environment consultancy to the Merseylink consortium, who are building the six-lane bridge over the River Mersey, in a joint venture with consultant Flint & Neill.
The Merseylink consortium – made up of Kier, Spanish contractor FCC Construcción and the construction arm of Korean giant Samsung – won a deal to design, build, finance and operate the bridge in March 2014. It is due to finish next year.
Aecom's role on the project involves providing specialist environmental advice and monitoring to help manage the impact of the new route on the environment.
The firm said that because of its role on the project, it realised that new research about the impact of infrastructure schemes on local habitats would benefit both the project and the construction industry and had decided to form a partnership with the University of Salford to conduct such research.
Under the new partnership, Aecom and the University of Salford will co-fund research that could lead to PhD studies and scientific papers.
Research areas could include exploring potential issues for wildlife when working in areas with contaminated sediments, predicting disturbance to sensitive species from construction activities, and investigating perceptions of biodiversity within construction.