Australian Lara Poloni replaces Steve Morriss who is moving to another role with the firm in the US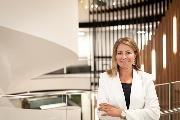 Aecom has appointed the boss of its Australia and New Zealand operations Lara Poloni to head up its European, Middle East, Indian and Africa (EMIA) business.
She replaces Aecom's current EMIA chief executive Steve Morriss who is moving to Los Angeles to head up the company's American design consultancy services business.
Poloni will start her new London-based role based at the beginning of October and will also be a member of Aecom's global executive leadership team. She will be in charge of 22,000 employees across 60 offices.
Poloni has been with Aecom since 1994 holding various roles at the firm including managing director for southern Australia as well as leading the firm's environment business prior to being made chief executive of Australia New Zealand in 2014 where she has led a 4,000-strong team across 25 offices.
During her career she has predominantly worked in the planning, assessment and development of major infrastructure in the transport, energy and telecommunications sectors.
Todd Battley replaces Poloni as chief executive of Aecom's Australia and New Zealand operation. He joined Aecom in 1996 and was most recently managing director for the Northern & Western Australia region with responsibility for Queensland, West Australia and the Northern Territory.
It is the first big reshuffle since Aecom acquired engineering giant URS in a £2.3bn deal in 2014, which made it the second largest consultant in the UK. The merger followed Aecom's 2010 acquisition of Davis Langdon for £204m.
Aecom in the UK has recently had a run of project wins with its fledgling UK construction arm, securing the job to build the £800m residential tower for Chinese developer Greenland in the Docklands and the 3,000 modular residential units at the £3.5bn revamp of Silvertown in East London.
The firm is also leading the team charged with masterplanning the redevelopment of 650ha at Old Oak in North West London.