Housing registrations across the UK fell 9% last year, with affordable housing registrations plummeting by nearly a third nationwide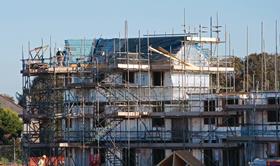 According to the latest figures from the National House Building Council (NHBC), UK registrations dropped 9% to 104,510 in 2012, down from 114,930 in 2011.
Completions rose slightly year-on-year, up 1% from 113,880 in 2011 to 114,550 in 2012.
Affordable housing registrations fell 28% year-on-year, down to just 26,390, while completions dropped 7% to 34,280 in 2012.
London saw the largest drop in registrations, across all sectors, with a fall of 33%.
The North-east saw a 24% increase in registrations between 2011 and 2012.
NHBC commercial director Richard Tamayo said: "2012 was a challenging year for the house building industry overall but ended on an encouraging note with Q4 figures 17% up on the same period for 2011.
"With Government-backed schemes such as NewBuy and Funding for Lending helping to increase mortgage availability, there are reasons to believe that 2013 may see the industry able to build on some of the positive momentum we saw towards the end of 2012, which does seem to be carrying over into January. "
"Nonetheless, with house-building volumes so far below the numbers desperately needed in the UK, this is clearly an issue that needs to remain at the heart of government policy."