Arcadis UK chief executive will take over as chairman of construction's charity for the homeless in November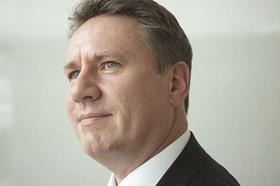 Alan Brookes, chief executive of Arcadis UK, has been announced as the new chairman of the construction industry's charity for homeless people, CRASH.
Brookes (pictured) will take over from current chairman and former Balfour Beatty boss Ian Tyler, who will be stepping down in November to focus on his duties as chairman of Bovis Homes. Tyler had been the charity's chairman for 10 years.
CRASH, Building's partner charity, has also announced that it will expand its beneficiary base from January 2016 to provide the 200 adult hospices and 40 children's hospices in the UK with professional expertise, products and grants.
It comes after Building's publisher UBM hosted the 2015 CRASH 'Above and Beyond' awards reception at its head offices in Blackfriars, London.
The ceremony gathered together several big names in construction who gave time and resources to support the charity.
Two of the charity's patrons, Network Rail and Areen Design, received trophies for providing the greatest value of professional expertise and materials respectively, while EC Harris LLP was recognised as the top fundraiser.
Medals were awarded to Emily Boyd, of Argent LLP, who ran in this year's London Marathon, and Sisk Group director Owen Sisk for his Cape Point and Robben Island swim. Boyd and Sisk raised a combined £9,000 for CRASH.
Addressing the reception, CRASH chief executive Francesca Roberts said: "Thank you for the tremendous loyalty and generosity that you have shown to CRASH which has enabled the charity to achieve so much over the last 20 years.
"Your support as patron companies of CRASH will continue to underpin our future work to create places that care for people who are homeless or have life limiting illnesses."