Details of vertical village in Manchester revealed by Allied London.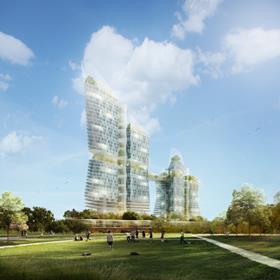 Allied London has launched the consultation period for its "vertical village" in Manchester, with planning expected to be submitted in late summer.
The proposed mix use development, named Trinity Islands and designed by Child Graddon Lewis, will create 1,200 homes within six interconnecting towers over 4.7 acres.
The towers will sit on podiums designed as landscaped fields, which will house parking facilities and other amenities on a site situated south of Liverpool Road, which includes ITV's former Granada studios.
Michael Ingall, chief executive of Allied London, said the development will be "a highly sustainable, high-density residential scheme that will provide a critical mass of residents to support the community, commercial and ancillary shopping and leisure spaces and create a vibrant, diverse and integrated village community".
Proposals for the wider 15 acre St Johns neighbourhood development are to be submitted Manchester City council soon with building work to start in mid 2016.
The St Johns neighbourhood will be comprised of two to three hotels, low-rise villages of small shops and businesses in narrow streets and up to 2,500 apartments.