Architect which worked on Olympic Park masterplan hits out at restrictions in BBC interview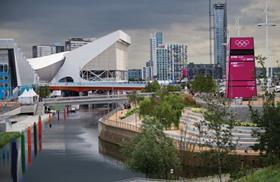 Leading architect Allies & Morrison has become the latest firm to hit out at the ongoing Olympic marketing restrictions.
Co-founder and partner Bob Allies told BBC London News last night that his firm, which worked on the Olympic masterplan and was the design architect of the new bridges, highways and structures in the Olympic Park, was unable to effectively promote its work.
Allies told the programme that he is unable to talk at Olympic conferences and has to seek permission from the authorities before giving interviews.
He said not every firm could become an official sponsor like Atkins or Populous.
"We are one of dozens of practices, big and small and all sorts of different kinds, who have contributed to the Olympics," he said. "We can't all do that [become sponsors] so in the end, that important thing is that all of those practices simply have the ability to present what they have done and take advantage of it."
Atkins' London 2012 project director Mike McNicholas told the BBC that the firm was reaping huge benefits from its Olympic work and sponsorship including the £70m transport and infrastructure contract it won in Qatar in January.
Since the start of this year, Building has used its 2012 campaign to highlight complaints from firms that the No Marketing Rights Protocol, enforced by the London Organisting Committee of the Olympic and Paralympic Games (Locog) has prevented them getting due credit for their Olympic achievements.
The issue has hit headlines around the world in recent months and has been taken up RIBA and the Institution of Structural Engineers.
To view the BBC London interview, visit: http://www.bbc.co.uk/iplayer/episode/b01ly897/BBC_London_News_14_08_2012/