Westminster council gives green light to Rafael Viñoly-designed redevelopment of Marble Arch tower in London's West End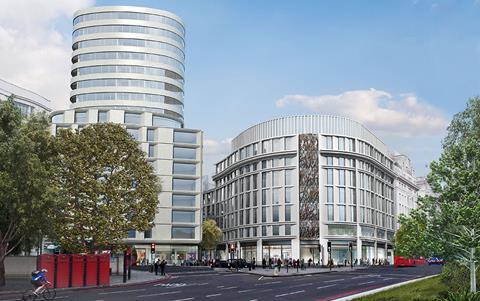 Designs by Rafael Viñoly for the redevelopment of Marble Arch tower in London's West End have been given the green light by Westminster council.
The developer of the scheme on the corner of Oxford Street and Edgware Road is Almacantar, which is also behind the revamp of Centre Point tower at the other end of Oxford Street.
Planners at Westminster council this week gave the green light to the work despite objections from the Royal Parks Agency, which is against putting up a high-rise tower at Marble Arch and the Marylebone Association which called the design "uninspiring".
Viñoly's plans cover 38,000sq m which includes 11,400sq m of offices, 52 apartments and 3,300sq m of retail.
Work includes demolishing an existing 24-storey tower and replacing it with two buildings of 17 storeys and seven storeys. The scheme has an estimated construction cost of £520 million.
The larger tower will include the apartments and shops on the ground floor while the other building will be devoted to commercial space and more shops on the lower ground and first floors.
Almacantar bought the 82m tall tower back in 2011 for £80 million. Work on the site is expected to start in 2015 and be completed three years later.
At the same meeting, the developer was also given approval for a housing and retail scheme by Farrells. The job at Edgware Road includes 76 homes.
This story first appeared on Building Design.