Plans for community near Liverpool FC's home ground could proceed this week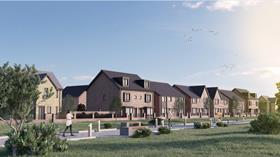 Liverpool city council is set to approve a plan to build 85 affordable homes and a series of shops near the Anfield home of Liverpool FC.
The deals with Keepmoat Homes and Priority Space will see the homes, as well as up to five new shop units facing Walton Breck Road, built as part of the £260m Anfield regeneration project.
The first three phases of the project have been completed with a fourth ongoing and will bring more than 500 homes to the area.
The soon to be assembled site for phase five includes land between Burleigh Road South, Robson Street, Venmore Street and Walton Breck Road, where terraced housing and the old Breckfield Primary School once stood.
The council, which has already bought most of the land and demolished 275 properties, is also seeking authority to use compulsory purchase orders in case of any contested plots.
Councillor Ann O'Byrne, deputy mayor of Liverpool, said: "This newest phase in the comprehensive £260m regeneration of Anfield is a critical piece of the jigsaw. There is much still to be done but this phase marks yet another milestone in our ambitions to create a brighter Anfield for everyone."
The Anfield project is one of 250 schemes, worth a combined total of more than £14bn, the council is supporting.
Elsewhere in the city, a scheme by developer Placefirst is set to transform the terrace-lined Welsh Streets district.
The council said it hoped the plan, which was approved in June, would retain 75 per cent of the existing homes, with the scheme aiming to either build or refurbish 300 properties.
Of these, 30 will be affordable rent, 35 part of a shared ownership scheme, 194 let at market rent and 35 available to buy.
This comes after a 2015 government decision and public backlash stopped the demolition of 440 terrace houses in the area including the childhood home of Beatles drummer Ringo Starr.
The council and Plus Dane housing association considered challenging the 2015 ruling but withdrew their appeal.