Islington council wants people working outside the home to undergo regular rapid coronavirus checks
Another London council has told construction workers to undergo asymptomatic testing in a push to limit the spread of covid-19 among people who have to leave home to work.
Last month, Southwark council said construction workers in the local area were allowed to access asymptomatic testing.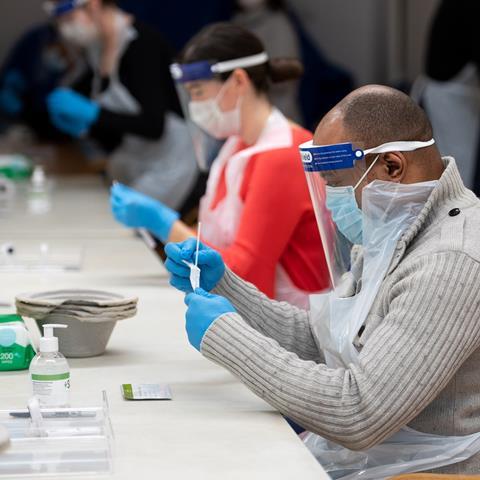 Anyone in the south London borough who is required to work outside of their home has been encouraged to request a rapid covid test.
Now Islington council has also told construction workers to book in for free, regular testing via the council.
In a tweet the inner London council said: "Make regular, rapid covid-19 testing a part of your work routine, if you are not working from home at the moment. This includes shop workers, construction workers, social care and health workers, and many more."
Last month, health secretary Matt Hancock said the government was expanding its rapid testing programme to all local authorities – with a focus on testing those who had to leave home to work.
Build UK has said it was imperative the programme is rolled out widely to include construction as quickly as possible.
The news follows another breakout of the virus on a construction site, with 50 people being forced into isolation on Laing O'Rourke's £1bn Edinburgh St James scheme.
There have been 11 positive tests on the site, while a further 39 people are isolating after being exposed.
The government has so far not been drawn on whether construction workers will be a priority during the next round of the vaccination programme.
Responding to an MP's question earlier this month, Nadhim Zahawi, who swapped his role as construction minister in December as minister for the covid-19 vaccine deployment, said the decision would be made by the joint committee on vaccination and immunisation (JCVI). He said that those at higher risk of exposure would be considered in the next round of vaccinations.
Zahawi told Tory MP for Romford Andrew Rosindell: "Prioritisation decisions for next phase delivery are subject to of the surveillance and monitoring data and information from phase one, as well as further input from independent scientific experts such as the JCVI.
"Phase two may include further reduction in hospitalisation and targeted vaccination of those at high risk of exposure and/or those delivering key public services."
The JCVI are the independent experts who advise the government on which vaccines the United Kingdom should use and provide advice on prioritisation at a population level.