AHMM wins planning for 22-storey block despite opposition from Islington
A 22-storey tower designed by AHMM is to be the latest addition to a burgeoning high-rise corridor in central London, despite concerns over its height and location.
The London Borough of Hackney has granted approval to the practice's proposals for 225 City Road, in the face of objections from neighbouring Islington Council, which said the structure would contribute to a "canyon effect" along the major thoroughfare.
A one-mile stretch of the road between Old Street and Angel Islington already hosts Squire & Partners' 36-storey Lexicon tower, and UN Studio's 31-storey Canaletto building.
Foster & Partners' City Forum, which will be 42 storeys at its highest is also under construction, while the 23-storey Carbuncle Cup-nominated M by Montcalm hotel – designed by Squires and 5plus Architects – is already open for business.
AHMM's 225 City Road scheme would deliver 100 apartments plus 15,600 sq m of office space and around 600 sq m of retail or restaurant space on a 0.37 hectare site that is currently used as a car park.
Islington – which has previously voiced fears over high-rise development on City Road – called for the proposals to be rejected on the grounds that the building would appear "inappropriately prominent" between the street's already-approved tower clusters.
"This is not a suitable location for a tall building," it said.
"Although less tall than existing and forthcoming tall buildings in the distinct and tightly-defined clusters at the City Road Basin and the Old Street roundabout, the proposal would undermine the coherence of these clusters, and would help to create a canyon effect along City Road."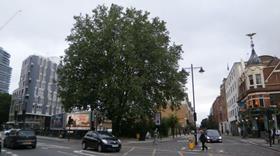 Hackney Council planning officers disagreed, arguing that the site was in a strategic area designated as suitable for tall buildings, and was not seen as overly harmful to the adjacent Underwood Conservation Area.
They said AHMM's proposals, drawn up for client City Road Developments, were "of a high level of architectural quality" and featured materials that would "sufficiently mitigate any harm to the character and appearance of the conservation area, as well as improving the "overall quality" of the site's immediate context.
AHMM, which is based in nearby Old Street, said the scheme had taken its inspiration from "the fine industrial buildings" in the Underwood Conservation Area and featured materials that would "grow old with grace".
Historic England did not object to the proposals, but "strongly encouraged" Hackney to assess the application carefully against its own planning policies, which include a requirement that all development should make a positive contribution to the borough's historic built environment.
Hackney's approval of the scheme is subject to confirmation by London Mayor Sadiq Khan.