Willmott Dixon steps in as main contractor on Toby Young's West London scheme with 'tight' budget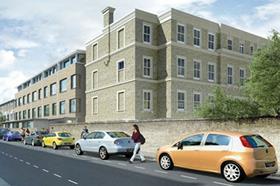 Willmott Dixon has replaced Apollo as the main contractor on Tony Young's high-profile West London Free School project, amid concern over the scheme's costs.
The move comes as Apollo, which was taken over earlier this year by northern rival Keepmoat, has been hit by a number of senior staff leaving the firm, including its education divisional director.
The firm is one of the 15 contractors on the Education Funding Agency's contractors framework for schools.
Apollo had been appointed to the West London Free School job, understood to be worth around £8m, but has left the contract after the first phase by mutual agreement between the firm and the client.
Building understands Apollo left the project last month after discussions over the costs, with the firm unconvinced that the project could be delivered for the amount the client wanted to pay.
Apollo has now been replaced on the job by Willmott Dixon.
Architect TP Bennett unveiled its designs for the 600-place free school last week. The architect will refurbish the existing 1,500m2 building and add a 3,000m2 extension.
Partner Chris Wieszczycki told Building's sister magazine Building Design: "The budget is tight and a fraction of what is normally spent. It's light touch refurbishment and the extension at the back."
Toby Young referred Building's enquiries to Apollo, which was unavailable for comment on the matter as Building went to press.
Apollo's decision to leave the contract comes as a number of senior Apollo staff, including new business director Dean Wincott and education divisional director Marcel Hendricks are in the process of leaving the firm.
Wincott's Linked In profile describes him as on "gardening leave", and Hendricks' profile shows he has already set up his own company, Marcel Hendricks and Partners.
A source close to Apollo told Building that Apollo was "refocusing on social housing". "Lots of senior people are leaving and there's a feeling that Apollo staff are bearing the brunt of cuts made to the group as Keepmoat and Apollo merge," he said.
Earlier this month, Jeremy Eavis, managing director of New Build at Keepmoat, said the merged business was "still active in the education market". "[We are] pursuing and securing opportunities," he said.