National Apprenticeship Week: Number of new apprentices hits pre-recession levels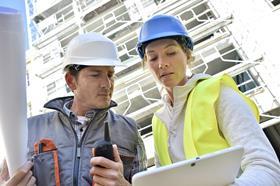 Construction apprenticeships are up to pre-recession levels, according to figures from the CITB released on Monday to coincide with National Apprenticeship Week.
The number of new apprentices has hit a six-year high and reached a level not seen since before the financial crisis in 2008, increasing by 12% compared to last year.
A total of 22,496 young people started construction apprenticeships in 2014/2015, up from 19,973 in 2013/14.
It comes after a survey of apprentices by Aecom found that one in three believed misperceptions that apprenticeships was an inferior route into the industry was the biggest obstacle when it came to tackling the skills shortage.
Commenting on the figures, Gillian Econopouly, head of policy and research at CITB, said: "Construction apprenticeships are growing, which demonstrates industry's commitment to train the next generation.
"But with CITB research predicting 230,000 new construction jobs by 2020, we need even more young people to start apprenticeships, and to help more firms take them on."
Commenting on the skills shortage in the sector, Mark Robinson, chief executive of Scape Group, said: "One of the biggest threats to the government's infrastructure plans is the skills shortage in construction.
"The need to plug the skills gap and attract more people into construction careers is even greater in light of a possible Brexit, as many companies in the sector rely on skilled workers from Europe."
"Without a significant investment in construction apprenticeships in the UK we will be unable to deliver the significant pipeline of projects necessary to provide for a rapidly growing population."
In other National Apprenticeship Week news…
Kier has enrolled 11 apprentices on a new qualification programme it has launched, which comprises two 18-month stages including a Level 2 Award in Construction Operations followed by a Level 3 Construction Technical - Contracting Operations qualification. The technical apprenticeship will train apprentices for careers such as site engineering, quantity surveying, estimating, buying, planning and health and safety.
Higgins Construction has announced that it will be taking on 26 new apprentices across its new sites in North London, including Kings Crescent in Hackney and King Square in Islington.
Tarmac has announced it will create 50 new apprenticeships during 2016 in a range of roles including technical placements, sites operatives, electrical and mechanical roles, business administration and commercial opportunities.