Firm has reinstated its dividend
A rise in profit across 2020 has seen Arcadis reinstate its dividend.
Overall group earnings before interest tax and amortization (Ebita) rose to €229m (£198m) from €213m (£184m) in 2019.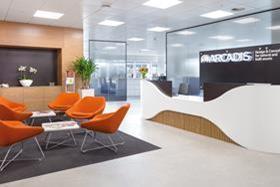 Revenue in the UK was in line with last year due to growth in infrastructure, environment and water compensating for a decline in buildings, the consultant said.
It said a major contract working on the central section of HS2 had provided significant continuity of work in infrastructure.
Revenue across the entire company fell to €3.3bn (£2.86bn) in 2020 from €3.47bn (£3bn) the year prior. Covid-19 and the firm's ongoing efforts to reduce activity in the Middle East were the reason for this dip.
Peter Oosterveer, chief executive at Arcadis, said the firm had delivered on all its strategic objectives despite the covid-19 pandemic.
He said: "The flexibility, agility and dedication of our employees enabled us to continue to deliver our projects, whereby the foundational and institutionalized performance enhancements combined with the measures we initiated at the beginning of the pandemic allowed us to perform so well.
"This resulted in a strong improvement of our operating Ebita margin, excellent free cash flow, and healthy backlog growth which combined created our strong financial position."
Oosterveer said this meant the firm was able to reinstate its dividend, which it cancelled in March. The firm is proposing a dividend of €0.60 (£0.52) a share.
Earlier this week, Building revealed that Arcadis had become the first of the big consultants to rejig its office requirements because of the covid-19 pandemic.
The firm is moving out of its King's Cross home of the past 15 years and into its new base at 80 Fenchurch Street.