New research from the consultant reports that every new home built could contribute £53,000 to the country's businesses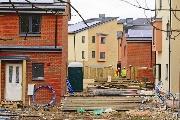 The UK's failure to meet housing needs is collectively costing British businesses £13.3bn every year, consultant Arcadis has reported.
The firm said that each new home built has the potential to contribute £53,000 to the businesses in the country.
Delivering more housing could help lower the premium bosses need to pay for efficient labour market allocation, which means up to £21,000 could be freed up to be re-invested in the business, Arcadis added in its latest report Building Homes – Making Places.
From the £21,000, Arcadis estimates that £3,000 derives from funds that would previously have been diverted towards housing subsidies for those living in areas where the cost of living comes at a premium.
In addition, bringing more residents into an area means each new home generates £32,000 annually in terms of local spend being recycled through the economy the consultant said.
UK business growth has remained static in the UK according to the latest quarterly survey from the British Chambers of Commerce and Arcadis said that while the ongoing lack of clarity around Brexit has undoubtedly had a dampening effect, these figures show that any moves to unlock the housing market could have knock-on benefits in terms of supporting the resiliency of British business.
Arcadis is calling for "a radical shift" in how the country's housing markets operates and the way it builds. The ability to procure land and unlock sites in key towns and cities is pivotal, and government-sponsored construction has a major part to play, the firm added.
Peter Hogg, regeneration spokesperson and head of government and municipals at Arcadis, said: "The UK's failure to keep pace with housing demand isn't just damaging our social and economic competitiveness; it's having a severely detrimental impact on potential business growth.
"As we head towards Brexit, the pressure is on our city regions to attract business and investment and building good quality housing is one lever that will play a major part in that.
"The benefits of building more homes are much greater than previously thought, so it makes perfect sense to put every ounce of effort in to get this right."