Latest RIBA survey finds architects' confidence in future workloads is continuing to rise across all parts of the UK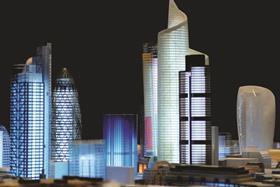 Architects' confidence in their future workloads is continuing to rise across all parts of the UK, according to the latest survey published by the Royal Institute of British Architects.
The RIBA Future Trends Workload Index rose to +26 in September 2013, rising by four points over the previous month.
It was good news for the commercial sector in particular, which saw a jump by eight points over the previous month to +17.
The workload balance is the difference between those expecting more work and those expecting less. A positive figure means more respondents expect more work than those expecting less work.
All UK nations and regions reported positive figures, along with all sizes of practice and sector.
Along with the commercial sector, the private housing sector also rose from +22 to +25 in a month.
RIBA Director of Practice Adrian Dobson said: "Overall workloads for architects fell back sharply in late 2008 and throughout 2009, and continued to decline, albeit much less dramatically, until the end of 2012, but have now been stable for some time."
The RIBA also maintains a staffing index, which saw a sixth consecutive positive month, and a four-point increase to +7.
Large practices in particular remained confident about their ability to maintain higher staffing levels, but overall practices were positive about taking on more temporary staff with an index of +12.
Dobson added: "Increased optimism about staffing levels are reinforced by the percentage of respondents reporting that they had personally been under-employed in the last month; down to 20%, the lowest figure since the RIBA Future Trends survey began in January 2009.
"Although there clearly remains over-capacity in the architects' profession at present the situation appears to be gradually improving, suggesting that employment prospects for salaried architects may improve in 2014."