Contractor hit by tax dispute and weaker margins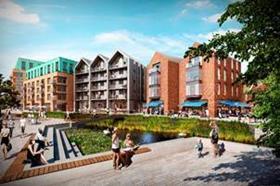 Ardmore has slumped to a £12m pre-tax loss in full-year results to September 2015, after being struck by two exceptional items.
The loss, disclosed in accounts filed at Companies House, was up from a £5.7m pre-tax loss the previous year.
Turnover – which will be boosted by the £170m Ram Brewery job (pictured) it picked up from Kier this month – was down by almost 10% to £218.5m.
Ardmore blamed the loss on the two exceptional items and weaker margins, saying its gross margin fell by one percentage point to 3.6% as contracts awarded in "a time of difficult market conditions were delivered in times of rising costs."
The two exceptional items reported in the firm's 2015 results were a £1.1m hit on the sale of a Midlands industrial unit, and a further £5.6m in losses after settling a tax claim with HMRC over option awards granted in 2005, which was settled after "some protracted negotiations".
It also said turnover was down due to its focus on winning work on improved margins rather than driving growth in turnover and limiting exposure to legacy contracts.
Ardmore said its order book for 2016 was 100% secured with 70% of its order book in 2017 also secured.
In its outlook, the firm said it has challenges in "controlling overheads and establishing a reliable and robust supply chain" but added that it is "increasingly optimistic about the coming years" as its negotiates contracts at "more sustainable margins".