Architect Allies & Morrison offers 'practical' proposals for London landmark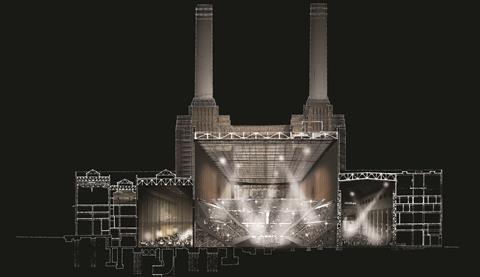 Battersea Power Station - Allies and Morrison
New plans for Battersea Power Station would see the iconic building turned into a large-scale performance arena with housing built on surrounding land.
Architect Allies & Morrison has become the latest architect to put together plans for the building, following the collapse of the Irish-backed Rafael Vinoly scheme in November.
The Vinoly plan originally included a 300m high "eco-dome" that was later ditched. Previous proposals for the site included a theme park and a huge shopping complex.
Property group Knight Frank is now handling the site's sale for administrator Ernst & Young and is hoping to raise up to £500 million for creditors.
Allies & Morrison's plans were drawn up after it was conacted by Save Britain's Heritage president Marcus Binney.
Its scheme involves turning the building's Boiler House into an 11,000-seat arena able to host concerts and events while the neighbouring Turbine Halls would be used to host exhibitions, receptions and launches.
The former coal bunker area and Grade II listed Water Pumping Station would be kept and housing would be built on surrounding land.
Morrison said the Boiler House could be quickly used in a "raw state" as an open air venue with a roof, raised floor and hospitality boxes added in later stages.
It said its scheme was "a very practical idea not romantic nor financially so ambitious".
The plans will be unveiled at event at the Building Centre in London organised by heritage group the Twentieth Century Society.
A version of this story first appeared on Building's sister title Building Design. Read it here.