Carillion had been touted for the job prior to its collapse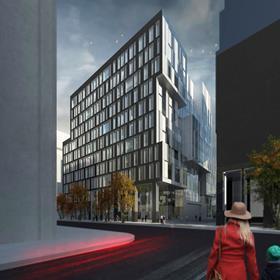 Bam has been confirmed as the contractor on the latest addition to the overhaul of King's Cross by developer Argent.
The contractor has been teed up to build the 12-storey office building S1, with initial site works set to start this week and wrap up at the end of 2020.
The concept design of S1 was completed by Mossessian Architecture, while Weedon is the delivery architect on the job.
When finished, S1 will closely resemble the its neighbour, known as S2, also designed by the same architect, with the two buildings set to have an 'interlocking' appearance.
Prior to its collapse there had been talk Carillion was in line for the job, given the failed contractor built the S2 building, which Google is set to occupy.
Bam has already picked up two jobs that were being carried out by Carillion since the firm went bust three months ago.
Argent also enlisted Bam to complete the £250m office scheme Carillion won back in 2016 at One Chamberlain Square at the developer's Paradise Birmingham job.
Bam Construction, which took over the job at the end of March, had already been appointed to build Two Chamberlain Square.
The contractor has also picked up a £40m commercial job in the middle of Manchester since Carillion went under.
The failed construction giant's 100 Embankment scheme was awarded to Bam at the end of last month.
The nine-storey 100 Embankment scheme in the city's Cathedral District is due to be finished by early 2020 and will be built next door to 101 Embankment, completed by Carillion at the beginning of last year
Manchester-based developer Ask Real Estate, which is carrying out the work with joint venture partner the Richardson Family, is understood to have begun scouting out alternative contractors when Carillion first alerted the industry to the severity of its problems with its £845m writedown announcement last summer.