Incoming ICE president says commission could enable progress in infrastructure not seen since the 19th century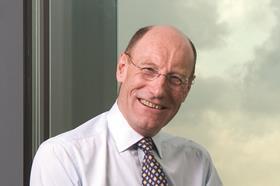 The National Infrastructure Commission could enable an "infrastructure revolution" not seen since the 19th century, according to newly-appointed commission member Sir John Armitt.
In his first presidential address at the Institute of Civil Engineers (ICE) last night, Armitt, pictured, praised the launch of the commission. He said: "We need a mechanism which provides dispassionate analysis of our long-term infrastructure needs and acts as a catalyst for reaching consensus on those needs.
"The effects of achieving consensus cannot be overstated - it could enable the kind of infrastructure revolution not seen since our great forebears in the 19th century. I am pleased to see cross-party support for a commission and to be part of something I have advocated and believe in."
Armitt, a former chair of the Olympic Delivery Authority, first championed the idea of a national infrastructure commission three years ago after being commissioned by Labour to review the country's infrastructure policy.
During his ICE address, Armitt also launched an advisory group to the NIC that will be led by the ICE: "ICE, in partnership with leading individuals from utilities, business, environmental groups and others, is to lead an advisory group to the commission as it undertakes its work.
"We will harness the group's expertise, assisting the commission to establish a shared, long term vision to 2050."
Armitt's comments come after industry leaders welcomed chancellor George Osborne's unveiling of the full eight-strong commission.
Members of the panel, which will be chaired by former Labour transport minister Lord Adonis, include Sadie Morgan, HS2 design panel chair and founding partner of dRMM Architects, former deputy prime minister Lord Heseltine, artificial intelligence researcher Demis Hassabis, chair of
the V&A museum Paul Ruddock and economists Tim Besley and Bridget Rosewell.
The commission will initially focus on three key areas: working with Transport for the North to improve connectivity between cities, including through high-speed lines; advising government on the best approach to large-scale future investment in London's transport infrastructure; and making proposals on improving the balance of supply and demand for energy.
Industry leaders welcomed the appointments but warned the body should be given the powers necessary to give its recommendations teeth.
Richard Robinson, Aecom's chief executive of civil infrastructure in Europe, Middle East, India and Africa, said: "The launch of the National Infrastructure Commission is welcome news but it must be granted the necessary binding decision-making powers to initiate projects. Industry optimism will be short-lived if it becomes a long-grass forum into which politically charged decisions are kicked."
Alasdair Reisner, chief executive of the Civil Engineering Contractors Association, said: "The commission will be able to analyse the strategic opportunities and challenges facing the UK, identify the best way to respond and then ensure projects are delivered on time and on budget."
Amanda Clack, RICS president elect, said: "That these key appointments were announced within a month of forming the commission clearly demonstrates the government's commitment."