Works to start next summer to increase the stadium's capacity and carry out upgrades at Club Level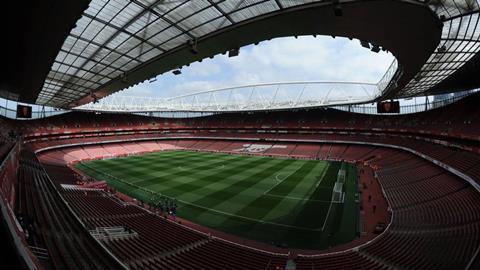 Arsenal Football Club has revealed that it is to start work next May to revamp Emirates Stadium in North London.
It will expand capacity at the stadium by 780 seats to take its total capacity to just over 60,600 - 959 seats less than rival north London club Tottenham Hotspur's under construction stadium, which expects to house 61,559 seats once completed.
The extra seats, which will be added to the Club Level at the stadium, will bring back up the level of capcity which has fallen over recent years due to safety requirements and improvements to facilities for disabled supporters
Arsenal is also planning to refurbish and upgrade other parts of its Club Level area, including its Dial Square suite.
The work, part of an ongoing programme to improve the HOK Sport (now Populous)-designed Emirates Stadium which the club moved into in 2006, will be carried out in two stages during the summers of 2018 and 2019.
During the summer this year the club completed a new sensory for those with special needs and improved seating and access to the stadium for disabled supporters.
Arsenal's chief commercial officer Vinai Venkatesham said: "The development of Club Level is crucial to ensuring fan experience at games is at its best whilst also enabling us to stay at the forefront of stadium hospitality. As we continue to face high demand for tickets in all areas of Emirates Stadium, this is a significant investment to ensure that as many supporters as possible are able to watch the team play at Emirates Stadium."
Meanwhile, Tottenham Hotspur has annouced that a public exhibtion will be held over from Friday to showcase the club's plans to build up to 380 new homes on White Hart Lane at The Goods Yard site. The scheme is part of Haringey council's regeneration plans for the area, which is to be delivered in partnership with Lendlease. Tottenham has also released new images detailing the progress by contractor Mace on building the club's new home.