Charity looks to raise £50,000 within eight weeks to aid with rebuild after earthquake devastation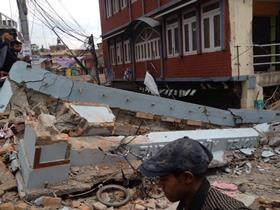 The architectural aid charity, Article 25, has launched an appeal to fund the re-building of schools in Nepal following Saturday's devastating earthquake.
The 7.8 magnitude quake, the country's deadliest in 81 years, has caused widespread devastation, including avalanches on Mount Everest. The death toll has now risen above 4,000 with a further 8,000 injured.
Article 25 is looking to raise £50,000 within eight weeks to allow them to "be on the ground after the initial urgent need for food and water has subsided", so they can carry out re-building and earthquake resilience work with local partners.
Robin Cross, managing director of Article 25, told Building the charity had been planning resilience works in Nepal for some months prior to the earthquake, including potential retrofitting works for school infrastructure in the capital Kathmandu and surrounding areas. "Everybody knew the earthquake was coming," he said.
Now they are aiming to dramatically expand that program and will use funds raised to help re-build critical infrastructure, particularly schools.
"Schools are a particular area of concern," Robin said. "They protect future generations and act as a safe haven for the community when it needs it."
He added: "It is not earthquakes that kill people, but buildings that kill people. When the buildings fail, the social the social and economic life they support also fail. We can't prevent earthquakes, but we can mitigate their impact."
While the primary need is financing, Cross said anyone interested in getting involved is welcome to contact them, but they are still assessing what will be needed.
Article 25 has over ten years experience working in earthquake-resistant school construction in countries such as Afghanistan, Chile and, Cross notes, in particular Haiti where they are still working five years on, which shows that once the crucial short-term needs are met following devastation like this long-term planning is required to make a difference.
To donate to the Nepal Reconstruction Appeal visithttp://uk.virginmoneygiving.com/fund/a25nepal or text "NEPA25" followed by your donation, to 70070. (eg NEPA25 £10).