The redesign of Alexander Stadium in Birmingham will increase its capacity to 40,000 for the duration of the Games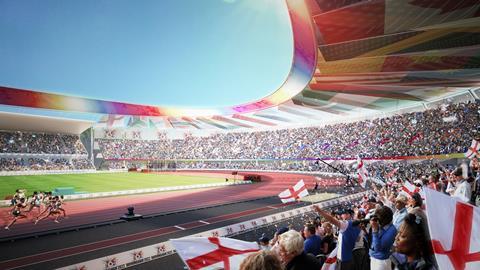 Arup has been chosen to deliver the redesign of Alexander Stadium ahead of the Birmingham Commonwealth Games.
Birmingham City Council has confirmed the firm is set to come up with the plans for the £70m transformation of the venue, which will host all the games' athletics events, plus the opening and closing ceremonies.
In its original contract notice, which was published on the Official Journal of the European Union, the council said: "A key component of the Commonwealth Games 2022 will be the redevelopment of Alexander Stadium site to meet all the games requirements."
Arup beat 12 other firms to the job, eight of which were SMEs.
The revamp of the stadium, which is already home to governing body UK Athletics, will increase capacity from 12,700 to 40,000 for the duration of the event.
The back straight stand, which was built in 2012 with a capacity of 5,000, will remain but the other three stands will be demolished and rebuilt.
The new stand, which will replace the three that are demolished, will increase the permanent capacity after the games to 20,000. During the event, temporary structures will create a 40,000-seater stadium.
In addition to the new stand, a 400m outdoor practice running track will be permanently housed at a nearby high-performance centre, while new community sports facilities, a permanent warm-up track and a conference meeting space will also be part of the project.
Arup has previous experience on high profile sports venues, having provided structural design services at Beijing's National Aquatics Centre and the National Stadium or the "Bird's Nest" ahead of the 2008 Olympics.
The company also worked on Munich's Allianz Arena and Melbourne's AAMI Park.
The appointment comes a day after it was revealed that Mace was set to be the project manager for the revamp of Alexander Stadium.
In July Building revealed that Wates was set to deliver the £60m aquatic centre, the only venue being built from scratch for the Games.
Arup has been contacted for comment.