Boss of government heritage adviser says tower will add to harm caused by Walkie Talkie if approved  
City of London decision makers should reject planning officers' advice to approve Foster + Partners' Tulip tower because of the harm it will do to the capital's heritage, the chief executive of Historic England has said.
In an unusually direct attack on a development proposal, Duncan Wilson said the 305m tourist attraction was "a lift shaft with a bulge" that would have a detrimental effect on views of the capital. He added that approving the tower would compound harm caused by Rafael Viñoly's Walkie Talkie building.
His comments come as the City of London prepares to make a decision tomorrow on whether to give the scheme the green light or not.
Historic England said it was opposed to the scheme – created for Jacob J Safra, owner of the neighbouring Gherkin building – in December last year, primarily expressing concerns over its impact on views of the Tower of London, which is a UNESCO World Heritage Site.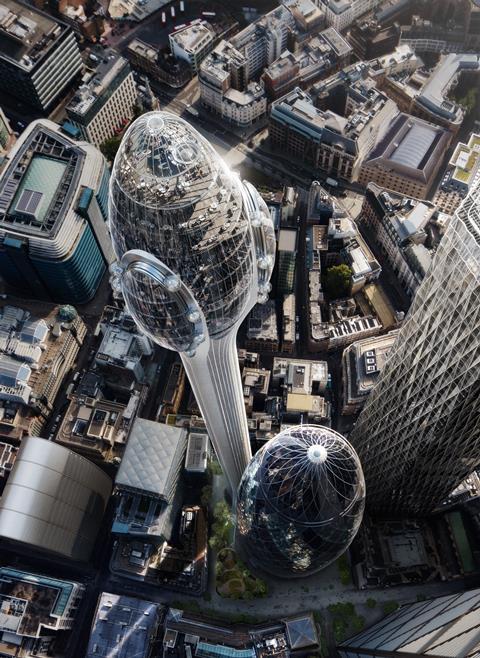 Chief executive Duncan Wilson said the reccomendation to approve was short-sighted and should not be rubber-stamped.
"This building – a lift shaft with a bulge on top – would damage the very thing its developers claim they will deliver: tourism and views of London's extraordinary heritage," he said.
"The setting of the Tower of London, a symbol of the city not just to millions of Londoners but to the whole world and one of our most visited places, will be harmed.
"It has already been damaged by the Walkie Talkie and it would be a great shame if that mistake was repeated."
Last week City planning officers recommended the scheme for approval.
In their 152-page report, planning officers said Fosters' design was "highly unusual and unique within the UK context" giving the tower "the potential to become an architectural icon for the City, London and the UK", and further afield.
Last month, the chair of the City's planning and transportation committee Chris Hayward told Building he expected that any decision to approve the Tulip would be called in for further scrutiny at a public inquiry presided over by a planning inspector.
Historic Royal Palaces, which manages the Tower, the Greater London Authority, and even the City's own built environment team have also raised concerns about the proposal.