Consultant opens Singapore architect practice to develop relationship with Chinese contractors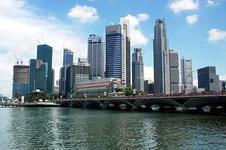 Atkins has opened a new architecture practice in Singapore which it said would help it develop a relationship with Chinese contractors.
The consultant said the practice will have a South-east Asia focus, as it continues its "geographic diversification" strategy in its Asia Pacific division, in a trading update published this morning.
Elsewhere, the firm said its oil and gas business has reduced its staff numbers by 125 in the UK and North America, and that "while client spend continues, we are facing pricing pressure and the impact of deferral and cancellation of some projects."
In the UK, Atkins said its recently combined transport business has traded well, but has cut staff numbers in its aerospace business "to ensure we are right sized for current market opportunities."
Reacting to the Davies Commission's recommendation of a new runway at Heathrow to ease constraints on airport capacity, the firm said: "We welcome the clear recommendation of the recently published Davies report and we look forward to supporting future developments in the UK's airport infrastructure."
Atkins said it had traded in line with expectations since April and that the outlook for the full year "remains positive".