Underlying demand outpacing supply, says architect
New commissions last year helped commercial architect Aukett Swanke grow its UK revenue for the first time since 2016.
The London-based practice, which has been carrying out work on the Cambridge Science Park (pictured), reported domestic turnover up nearly 11% to £7.45m in the year to 30 September 2019, citing improved confidence from developers.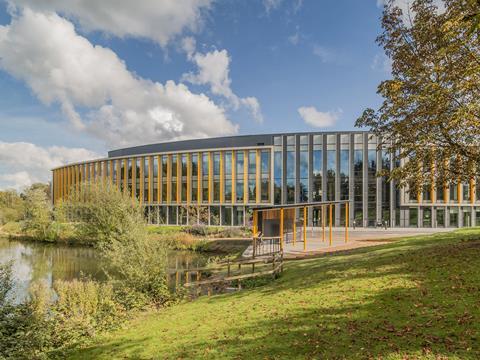 Aukett, the country's only listed architect, said underlying demand was outstripping supply, particularly for grade A office space.
While revenues rose, the UK operation posted an operating loss of £42,000, versus a £2.7m loss in 2018. But it turned a pre-tax loss of £965,000 in 2018 into a £451,000 profit last year, as costs fell by £706,000.
New commissions included the refurbishment of the Asticus building in London's Mayfair for insurance firm AXA. It was also re-instructed for a £50m regional headquarters office project in the UK which had been cancelled in summer 2016 after the EU referendum.
The firm also reversed losses at its Middle East operation, reporting a £525,000 profit, compared with a £585,000 deficit in 2018, although it warned the outlook for the region remained cautious.
Overall, Aukett posted group turnover of £15.5m, up 8%, and a pre-tax profit of £292,000, versus a £2.5m loss in 2018.