Link availability of funds to number of homes built, says Colin Lewis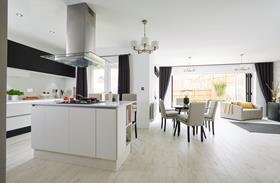 The boss of Avant Homes has called on the government to overhaul the Help To Buy scheme by linking access to funds to the number of homes built.
Ahead of the Chancellor of the Exchequer's Spring statement on Wednesday, Colin Lewis, the Chesterfield-headquartered group's chief executive, said changes must be made to rebalance the benefits of the policy "to homebuyers and away from housebuilders".
Last week Theresa May set out the government's plans designed to ramp up housebuilding activity, but Lewis called on ministers to go further and re-boot Help To Buy in order to incentivise firms to build more homes.
"The government has criticised housebuilders but we are saying that it should look at how Help To Buy is used in order to increase volumes. Theresa May said housebuilders should 'do their duty', but [while we want to build more homes] our duty is not to the nation as a whole but to shareholders and stakeholders.
"While the policy environment remains supportive, we think Help To Buy should be reformed to further encourage housebuilders to increase their output to hit this milestone."
Lewis said the scheme should stimulate the market "at price points that work and help more people buy the home they want.
"Let's link the availability of Help to Buy funds for housebuilders to an increase in the numbers of new homes they build."
If a housebuilder failed to increase output by a given percentage in one year, Lewis said its access to Help to Buy subsidies the following year should be reduced "and thereby switch the emphasis to answering the supply question more than the demand".
Ahead of Avant's 27 April financial year end Lewis said the group was on track to deliver a 25% hike in revenue. In 2017 Avant reported group revenues of £369m and pre-exceptional operating profit of £45m.
Lewis said the firm's existing strategic growth target of 2,000 units a year was expected to be hit by December 2018, 12 months ahead of schedule, and the firm was setting itself new, five-year target of more than doubling output to 4,000 homes a year by 2023.