Contractors sign up to new government backed initiative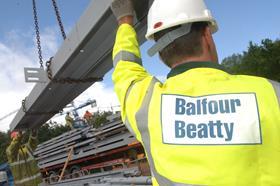 Contractors Balfour Beatty and Carillion have signed up to the prime minister's Supply Chain Finance scheme which aims to help supply chains maintain their cash flows at lower finance costs.
The scheme entails banks paying invoices raised by the supply chain against larger companies, such as Balfour Beatty or Carillion, in advance before recovering the debt from those tier one contractors. The banks will charge a small interest rate to firms in the supply chain for this service.
A raft of firms from a cross section of the economy have signed up to the scheme including Sainsbury's, Vodafone and British Airways.
Prime minister David Cameron said: "This government is determined to back all those businesses who aspire to get ahead and take on more people.
"In the current climate, viable businesses can struggle to get the finance they need to grow – this scheme will not only help them secure finance and support cash flow, but will help secure supply chains for some of our biggest companies and protect thousands of jobs. It can be a win-win, with large companies and small suppliers both benefiting from this innovative scheme."
John Walker, chairman of the Federation of Small Businesses, said the scheme would help firms maintain working capital and tackle the issue of late payments.
"Nearly three quarters of small businesses report that they have been paid late in the past year, placing a huge strain on cash-flow and meaning they struggle to realise ambitions to grow," he said.