The contract is set to run until 2025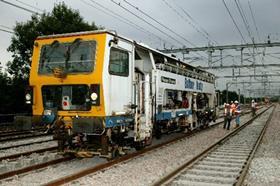 Balfour Beatty has been awarded a seven-year maintenance contract worth more than £115m by Network Rail.
The contractor will be responsible for delivering tamping shifts across Anglia and South-East routes.
Tamping ensures the track is aligned to enable trains to run smoothly. Tampers maintain the track by hydraulically lifting lengths of track and packing ballast underneath the sleepers to fill voids and realign the tracks.
Mark Bullock, managing director of Balfour Beatty's rail business, said: "The contract is an important one for both Balfour Beatty and Network Rail as it will ensure the smooth and safe operation of some of the busiest sections of the railway.
Balfour Beatty will also be introducing at least two new tampers for the contract, the first of which is expected to be delivered by 2021