New peace talks set for Friday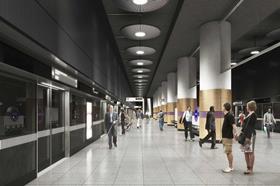 Strike action due to take place Balfour Beatty's Woolwich Crossrail site today has been called off at the eleventh hour.
A spokesperson for union Unite said the planned industrial action had been suspended, following the strike scheduled for last week being cancelled to allow for further talks.
The decision to call off the strike and wider demonstrations was made at 6pm last night after another round of talks were planned for Friday.
The site has already been hit by three 24 hour strikes since the turn of the year with the dispute centring on improved pay and a finishing bonus – which is triggered when workers are laid off as the job comes to an end.
Unite said it has taken the action because Balfour Beatty has refused to pay an improved second tier payment as well as the finishing bonus.
The ongoing dispute involves 76 electricians employed by the contractor's M&E arm, Balfour Beatty Kilpatrick, on the job.
The Woolwich station (pictured), designed by architect Weston Williamson, is the penultimate stop on the Crossrail line in the east. Services from the station are due to be up and running this December.
A Balfour Beatty spokesperson said: "Balfour Beatty notes that the workforce will not be proceeding with strike action today.
"We are continuing to engage with Unite and Balfour Beatty Kilpatrick's workforce of electricians on Crossrail. We are committed to resolving this dispute and to the continued progress of the project."