Group chief executive takes charge of UK construction business, where profit is forecast to be £50m less than expected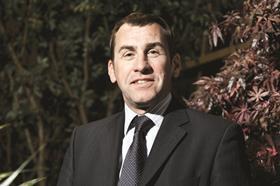 Industry giant Balfour Beatty has warned that profit at its UK construction business will be £50m less than expectations, following a review of the business.
In a statement to the City, the firm also said group chief executive Andrew McNaughton (pictured) would be stepping in to take charge of the UK construction business, currently led by Mike Peasland.
The firm said that its UK construction business was expected "to deliver significantly lower profits from operations for 2013" - amounting to £50m less than forecast in March, when the contractor announced its full-year results.
This is Balfour Beatty's second profit warning in six months, after an earlier warning last November when the firm said "the performance of our UK construction business is weaker than anticipated".
Balfour Beatty's share price was down 12% on early trading this morning.
The UK construction business has undergone a major restructure in the past year, in a bid to streamline its operations.
The firm said the UK construction market had been a "challenging environment in which to win and execute work".
The firm said its latest review of the construction business had highlighted "some poor performance in the UK regional construction business, and to a lesser extent the building part of the major projects business, which led to an internal review".
"This internal review has concluded that the combination of a difficult external environment and internal reorganisation has resulted in specific instances of poor operational delivery."
The firm said that Balfour Beatty group chief executive Andrew McNaughton, who took over from Ian Tyler last month, CEO, has "started implementing an immediate action plan, taking charge of the UK construction business personally, to address the operational issues".
Balfour Beatty said: "Market conditions which deteriorated significantly in the second half of 2012 continue to be difficult. Change in procurement trends, which we have previously highlighted, have persisted, allowing customers to impose increasingly stringent conditions onto contractors.
"Our subcontractors continue to operate under considerable financial strain. In these extremely tough conditions, our UK construction business has been concurrently implementing a substantial organisational restructuring in order to streamline the business for future success while reducing costs to remain competitive."
The firm said the group's balance sheet remained "strong taking full account of the cash impact of the £50 million profit shortfall".
The UK construction business reported revenue of £3.18bn in the year to 31 December 2012 – a drop of 6% on 2011 – with a loss of £37m, due largely to one-off restructuring costs.
The firm expects revenue for its UK construction business to fall 20% in 2013, leaving it with revenue of around £2.55bn, down 35% on the £3.89bn the firm posted in 2009.