National Grid has also handed a cabling contract to Murphy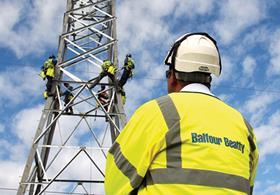 Balfour Beatty has been appointed to a £214m job to connect Hinkley Point C to the National Grid.
Britain's largest contractor is already building a 9km cable to a substation in nearby Sandford but will now also construct a 48km overhead line through the Mendip Hills in Somerset to a new substation on the coast at Avonmouth, near Bristol.
Balfour Beatty starts work this month and will have over 150 people on the job at peak construction – before completion in 2025.
The contract is one of three awarded by National Grid as part of a £300m Hinkley connection framework.
Murphy is set to construct an underground cable between Nailsea and Portishead in Somerset, while Siemens will build a new substation at Sandford.
The job is the third major contract picked up by Balfour related to Hinkley Point C, having already won an electrical work package and a tunnelling and marine works job through joint ventures.