Former Bovis chief executive Nick Pollard to head UK construction business as firm closes three regional offices
Balfour Beatty has appointed former Bovis boss Nick Pollard as chief executive of its UK construction business.
The announcement came as the firm put 200 jobs at risk after announcing it would close three of its regional offices, in Dartford, Rochdale and Doncaster, as part of an ongoing review of the viability of its regional UK construction business.
This followed a £50m profit warning in April, when Balfour Beatty Group chief executive Andrew McNaughton seized control of the UK construction business, and former chief executive Mike Peasland stepped down to the role of managing director of the regional business, where around £38m of the £50m hit was focused.
Now the firm has appointed Nick Pollard (pictured) to head the UK construction business. Pollard will take up the post on 17 June. He has previously been chief operating officer of Navigant Consulting's global construction practice and chief executive of Bovis Lend Lease UK, as well as holding senior roles with Network Rail.
His appointment came as Balfour Beatty announced it had won the £110m job to build the Providence Tower residential scheme for the Ballymore Group in London's Docklands (pictured).
Balfour Beatty has been long trying to crack the London tower market, and the building will be the tallest constructed by the firm in the UK.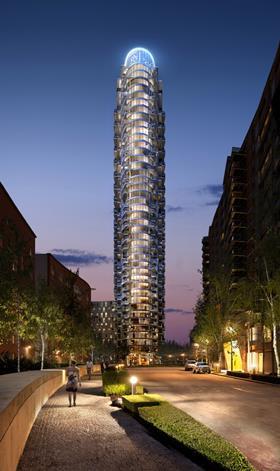 Meanwhile, the firm said it was closing three offices "due to a combination of insufficient construction activity and a disproportionately high cost base".
The firm said each office employed between 50 and 90 people, but it is understood that in total there are around 200 jobs at risk. Balfour Beatty said that the three offices collectively generated around £120m of turnover last year, which is about 8% of the £1.5bn-turnover UK regional business.
The firm said it was closing the offices "due to a combination of insufficient construction activity and a disproportionately high cost base". "This could result in a small number of job losses and the relocation of individuals," the firm said.
It said it was working to address "specific operational issues across a handful of projects" in the South-west.
The firm added: "As part of the wider business review, we have also identified that two smaller locations in Rochdale and Doncaster are no longer sustainable and again, employees have been advised of our proposal to close these offices."
The closure of the offices comes after the business announced a major restructure of its UK operations last year, which saw the number of regional offices cut from 75 to 37 with the loss of 650 jobs.
Speaking to Building, Pollard said it was "too early to tell" if there would be further office closures and that he would be keeping the business "under review". "That's just a simple fact of business life," he added.
He said he would focus on improving operational performance as the firm seeks to recover from the £50m profit warning. "It's a cracking business and a cracking brand but on a few projects, in some parts of the business, it's lost its way a bit and taken its eye off the ball," he said.
"Balfour Beatty clearly has built some fantastic schemes, so the question is how you make the performance more consistent and more unified. It's going to be bloody hard work – and I know there are people working extremely hard at the moment."
Andrew McNaughton, group chief executive, said: "I am delighted to welcome Nick to the team. He has strong operational experience across our industry with existing relationships with many of our key customers.
"Nick's focus on enhancing performance in mainstream construction, in the UK as well as overseas, combined with his advisory roles for investors and government will be invaluable in bringing fresh ideas to the CSUK business and broaden the skills of the senior management team."