Around 200 jobs have been put at risk after the firm announced plans to close three regional offices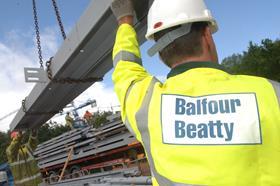 Balfour Beatty said yesterday that it would close three of its regional offices, in Dartford, Rochdale and Doncaster, as part of an ongoing review of the viability of its regional UK construction business.
The firm said it was closing the Dartford office "due to a combination of insufficient construction activity and a disproportionately high cost base".
"This could result in a small number of job losses and the relocation of individuals," the firm said.
The firm said each office employed between 50 and 90 people, but it is understood that in total there are around 200 staff that are in consultation across the three offices.
Balfour Beatty said the three offices collectively accounted account for around £120m - or around 8% of the UK Regional business, which generated £1.5bn of revenue in 2012.
The office closures follow a £50m profit warning in April, when Balfour Beatty Group chief executive Andrew McNaughton seized control of the UK construction business, and former chief executive Mike Peasland stepped down to the role of managing director of the regional business, where around £38m of the £50m hit was located.
Now the firm has appointed former Bovis boss Nick Pollard to head up the UK construction business.
Pollard will take on the role of chief executive on 17 June.
Last year Balfour Beatty announced a major restructure of its UK operations, which saw the number of regional offices cut from 75 to 37, six operating companies reduced one and around 650 job losses.