Contractor to redevelop Bristol University's Fry Building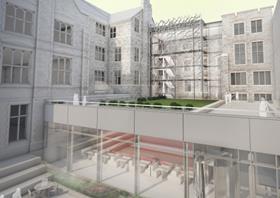 Balfour Beatty has been selected as the main contractor on a £33m renovation and remodelling of the University of Bristol's Fry Building.
The work on the Grade II listed building will transform it into a new home for the University's School of Mathematics as part of a 10 year £525m captial investment programme.
Architect on the scheme is Wilkinson Eyre which was first appointed to the 10,000sq m project back in 2012. The project is being managed by Capita Project Management.
The building, formerly the home of the university's Biological Sciences department, is due to open in October 2017 and will feature a new atrium which will link to a new 140 seat lecture theatre and roof garden above it.
Patrick Finch, bursar and director of estates at the university, said: "After an extended period of enabling works, dealing with a range of activities from demolition and site clearance within the heritage building, we are very pleased to have reached the point where contracts for the main construction works have been agreed."